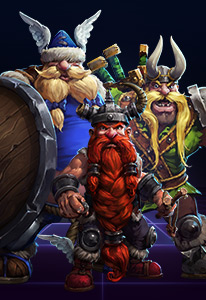 Three Heroes in one! Can gather experience from multiple locations.

The Lost Vikings are back! While they briefly considered retirement after defeating the emperor Tomator, there were only so many polar bears they could wrestle before falling into a Nexus portal seemed like a solid life decision.
Official Site: Hero Page
Universe: Nexus
Role: Specialist
Attacks: Melee
Released: 2015-02-10 (during Alpha/Beta)
Latest Changes: Heroes Patch Notes
Usable as Announcer: No
Unique Mount: Go Go Go!
This hero has: