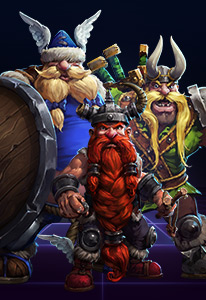 The Lost Vikings are back! While they briefly considered retirement after defeating the emperor Tomator, there were only so many polar bears they could wrestle before falling into a Nexus portal seemed like a solid life decision.

Three Heroes in one! Can gather experience from multiple locations.
Official Site: Hero Page
Universe: Nexus
Role: Support (Melee)
Released: 2015-02-10 (during Alpha/Beta)
Rarity: Legendary (10000 , 750 - History)
Usable as Announcer: No
Unique Mount: Go Go Go!
This Hero has: