← Braxis Outpost Lost Cavern →

Within the heart of the foundry lies a smaller district, reserved for testing Volskaya Industries' security systems. The tight corridors makes it very intense to maneuver and requires combatants to be on their toes.

This Battleground:
---
Battleground Map
A small preview of the ingame minimap.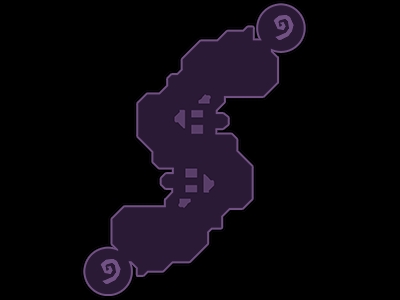 ---
Primary Objectives
These objectives are what makes the Battleground unique, and are essential to know in order to win.
| | |
| --- | --- |
| Destroy Enemy's Core | Destroy the enemy's Core to win. |
| | |
| Single Lane | No additional battleground objectives are present. Prepare for constant action. |
| | |
| Shuffle Pick | Choose from one of three randomly selected Heroes. You only have 30 seconds, so think fast! |
| | |
| Additional Info | Hearthstones (B) are disabled and your starting area doesn't regenerate health. |
| | |
---
Camps
When captured at the right time, Camps can make a huge difference or provide a needed bit of support.
Fortification Camp
Fortification Turret spawns. Drops a Turret upon capture, that can be picked up and dropped elsewhere.
Spawns: 1 min
Respawns 2 min, 30 sec after the Camp has been captured.
Amount: 2
Located at northeast and southwest of the center, behind the conveyor belts.


Globe Spawner
Collect Regeneration Globes to regain Health and Mana.
Spawns: 45 sec
Respawns 45 sec after after being picked up.
Amount: 6
Located between the forts, keeps and center.


---
Resources
Useful websites, that gives detailed information about certain aspects of the Battleground.
---
Battleground Rotations
In the ARAM game mode, not all Battlegrounds are playable at all times. This changes every once in a while with a Battleground Rotation.